Work starts on Swadlincote's new Cadley Park urban development - and a completion date has been put in place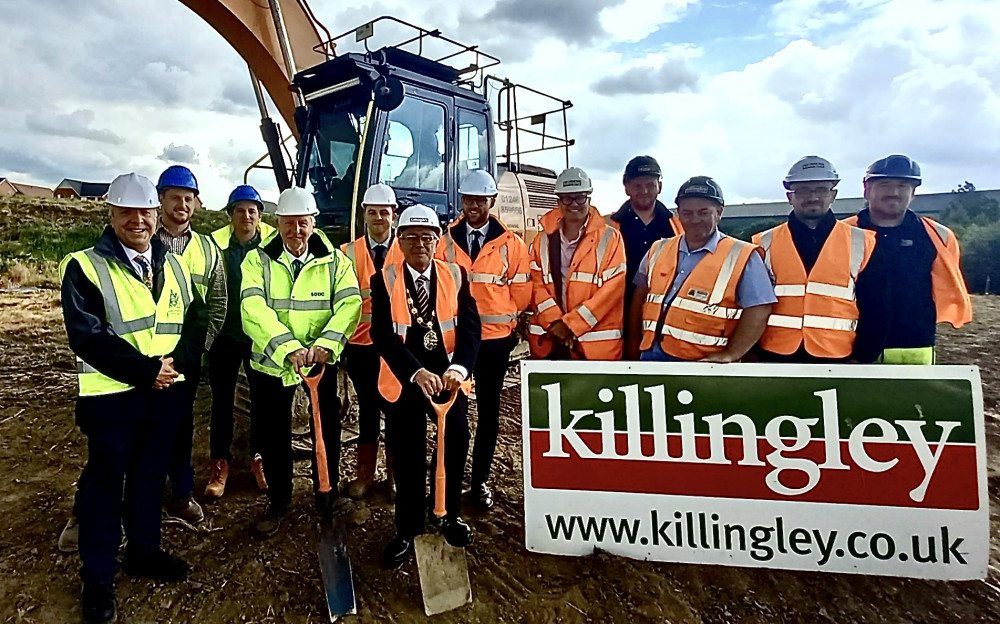 Chris Worman (SDDC), Callum Ellis & Simon Wilson (Turner & Townsend), Frank McArdle (Chief Executive, SDDC), Josh Williams (Tuner & Townsend), Cllr Paul Dunn (Chairman of SDDC), Peter Massie (Harworths), Matt Killingley & Craig Taylor & Tony Graham & Daniel Hack & John Holland (Killingley)
Building work started has on Cadley Park - Swadlincote's new urban park development.
The new Chairman of South Derbyshire District Council, Cllr Paul Dunn and Chief Executive, Frank McArdle were joined by representatives from project collaborators Killingley (Main Contractors), Harworth's (Land Agents) and Turner & Townsend (Project Managers) alongside Chris Worman, the Council's Parks and Green Spaces Manager to perform a short breaking of the ground ceremony.
The former Cadley Colliery site off William Nadin Way is being transformed into a new urban park facility.
The park will provide an area where people can discover nature, through the creation of wildflower meadows and enjoy outdoor exercise thanks to the park's new network of footpaths and cycle tracks.
This new area will compliment Swadlincote's existing network of green spaces and provide quality facilities for residents to enjoy for years to come.
It will be named Cadley Park to reflect the history and heritage of the site's former colliery.
Cllr Dunn said: "It is a great pleasure to be here today to see the works commence on what will be a magnificent facility and open space for South Derbyshire.
"I would like to say a huge thank you to all the collaborators involved and our Council officers for bringing this project together, and I am looking forward to seeing the transformation over the coming months."
The £1 million green space investment is being funded by 106 monies and South Derbyshire District Council alongside a Sport England grant for the pump track - with support from British Cycling. With work now underway at the site, it is expected to be completed by Christmas.